Emma's Story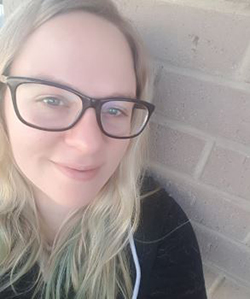 Emma Moreton,
Support Worker

Working as a Support Worker at Community Living Australia, I have the opportunity to support people with disability to live fulfilling lives, to maintain and grow their skills, and to be a part of their communities.
I joined Community Living Australia 6 years ago, and in that time have worked across a variety of services including Accommodation, Day Options, Children's Services and Respite. Being able to teach our clients new skills, and to see them achieve their goals and be successful is the most rewarding part of the job for me.
I have the opportunity to work flexible hours, spend my time with other wonderful and passionate Support Workers and supportive Team Leaders, and I have the daily encouragement of knowing that my work is meaningful and important. Every day is different at Community Living Australia, and I love the ever-changing work environment.
Working as a Support Worker does not come without its challenges, some clients will have challenging behaviours at times and it is crucial to have conflict resolution skills in this role. The ideal Support Worker needs to be flexible, thoughtful, compassionate, and skilled at working in a team environment.
I really do believe that Community Living Australia is a great place to work, they are flexible with availability and their expectations are very clear and easy to follow, I always know what is expected of me while on shift.
Working as a Support Worker for Community Living Australia, you have the opportunity to do meaningful work that truly does support our clients to live life to the fullest. This is what I like most about my job.
Get Involved
Find out more about joining us in helping South Australians achieve their goals.
Support us
Get in Touch
If you have any other questions, comments or feedback, we'd love to hear from you.
Contact us